Painting Workshops and Local Classes
National/International and LaPorte, CO Studio

The workshops welcome all levels of students. The demonstrations and instruction are for oils but those well versed in pastel and acrylic are welcome to join us. The painting instruction will benefit the experienced students wanting to enhance their skills as well as the novice oil painters looking for more confidence and a solid background in the basics.
Both plein air and studio workshops are offered. The focus is not only on painting but on solid composition, creating atmospheric perspective, understanding color temperatures and values. The students will develop their individual abilities while enhancing their own creative styles. The workshop emphasis will be on oils but artists familiar with other mediums are welcome.
For a workshop flyer or schedule of local classes please email from this site. If you would like to be notified of future workshops please provide an email address. Your email/address information is kept private and used only for Jeanne Mackenzie workshop notifications.
Mackenzie Studio Classes
Fall SESSION 2014 / Next Studio classes: Wed. and Thurs. / 9am-3pm
October 15,16, 29,30
November 5,6,12,13,19,20
Call for workshop flyer- 970-215-9220
2015 WORKSHOPS
INFORMATION COMING SOON FOR
VENICE, ITALY - Capture thé mystique of Venice Plein Air in October, 2015
ROATAN, HONDURAS- Dive/Snorkle/ Paint on the Resort Isle of Roatan, 2015
OURAY, COLORADO- August, 2015
STEAMBOAT SPRINGS- September, 2015
PAINT SOUTHWESTERN FRANCE 2016
LOT River Valley, FRANCE

Plein Air in Southwestern France
Upcoming 2016 workshop
At Domaine du Haut Baran, Lot River Valley, France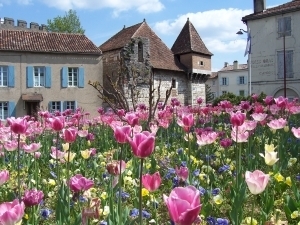 The Workshop:
Join Jeanne Mackenzie in the luminous countryside of France. Painting instruction will be in oils but other mediums are welcome. Come for beginning plein air instruction or just some personal mentoring, sketching or local photos. May is a wonderful time for poppies and wisteria, food markets and century old farm buildings. There will be many relaxing paint mornings/afternoon but also many opportunities to explore the area and indulge in wonderful meals and wines. Domaine du Haut Baran has loaner French paint easels if you would like to leave your easel at home. There are lots of activities for non-painters.
Domaine du Haut Baran country house:
This beautiful French country house is owned and managed by an American couple, William and Rosalie Haas. It is a two hour drive from Toulouse Airport, featuring bedrooms with modern, private bathrooms, swimming pool and Jacuzzi. William, of French descent and fluent in both French and English, provides transportation for the airport and serves as a guide on painting excursions to small villages, medieval castles, vineyards and farms. The beautiful grounds offer many vistas to paint as well as having a large studio for rainy days.
Workshop Includes:
7 days painting in southwestern France
7 nights accommodations at Haut Baran (double occupancy)
Daily continental breakfasts (best croissants!)
3 lunches
3 dinners (wine included)
Transportation for painting/tour sites
Guided tours by William Haas
All taxes and free Wifi
Studio and French easel use
Transportation to/from Toulouse Airport (everyone picked up at same time)
What is not included:
Air Fare
Some meals, personal items, tips and phone calls
Travel insurance (recommended)
Details
Jeanne Mackenzie- 970-215-9220/ jeanne@jeannemackenzie.com
William or Rosalie Haas- hautbaranfrance@gmail.com
STUDIO 'PLEIN AIR'- Steamboat Art Museum

Steamboat Art Museum, Steamboat Springs, Colorado
9/4/2015 9/7/2015
Steamboat Art Museum

Make your studio paintings look as spontaneous as your plein air paintings done on location.

This studio class will help you loosen up and become more spontaneous with your painting. Often we paint 'plein air' with a sense of bravado and then tighten up when we work from a photo. During the class we will use photo references while learning how to treat them as if painting the scene on location. Emphasis will be on choosing good composition, an inviting design, correct values and colors that sing. We will do two days in the studio and then take our skills out on site for two days. The instruction and demos will be for oils but those well versed in other mediums are welcome. The class is available to all levels of painters.